FASHION DESIGN: HIGH FASHION TAILORING (COUTURE)
Undergraduate Three-Year Course / Rome
Bachelor Degree, accredited by E.A.B.H.E.S.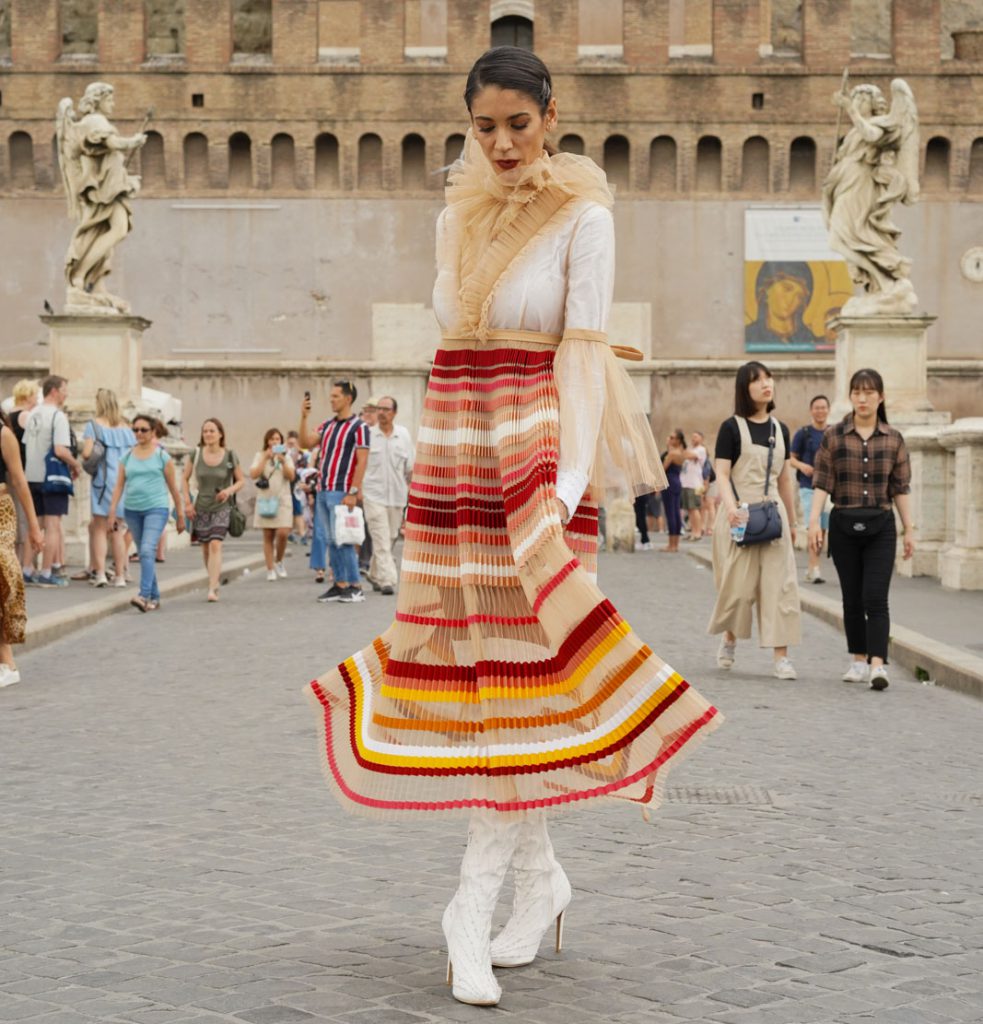 This course plans a complete training about the production process of high fashion tailoring. It has professional purpose.
Entering the secrets of fashion design conception, the Student discover the five main phases of the work atelier: projecting/fashion drawing, paper modelling, canvas modelling, tailoring concerning textile design, decoration, embroidery, knitting, fur processing… the scope is developing both creativity and handmade skills. Three quarters of the hours are devoted to creative laboratory activities. Last Semester student apply the earned professional skills to their outfit dressmaking clothes to participate at the AltaRoma catwalk.
During this three-year Koefia Academy invites students to participate in national and international awards and fashion shows earning additional Credits.
The preparation earned by the students allows them to do internships and job interviews in important fashion houses, to work in the creative professions of the atelier. For a career in fashion based on rock-solid expertise.
FIRST YEAR
Fashion Drawing & Projecting 1
Modelling 1
History of Costume 1
Digital Illustration 1
Visual & Graphic Design
Textile Product Categories
History of Art
Fashion Drawing & Projecting 2
Modelling 2
Digital Illustration 2
Textile Design
Fashion Marketing 1
Weaving
SECOND YEAR
Advanced Patternmaking
Tailoring & Sewing 1
Digital Illustration 3
Collection Development 1
Advanced Patternmaking 2
Tailoring & Sewing 2
Fashion Marketing 2
Accessory Design 1
Digital Illustration 4
THIRD YEAR
Couture Modelling
Tailoring & Sewing 3
Knitting & Fiber Art
Embroidery
Accessory Design2
Industrial Patternmaking 2
Fashion Luxury Brands
Millinery
Cad-Cam Patternmaking
Capstone Experience – Final Thesis