The Countess Alba Toni Brasini who chose as her stage name "Madame Koefia", founded Accademia Koefia in 1951 in Rome. Koefia Fashion Academy was first School of Fashion of Italy: 67 years of passion and success that continue to attract student and fashion professionals!
Since 1951, KOEFIA Academy prepares students through a three-year course strongly oriented to the practical aspect of the profession.
The study path is complete: the design of the project to the creation of the paper pattern, from the prototype in sartorial canvas to the realization of the dress in fabric with the criteria and sartorial techniques of High Fashion. A KOEFIA student is able to intervene at any stage of the creative process, starting a complete dress from a sketch on a paper sheet.
The Academy pays particular attention to the additional components that make a dress a luxury object: embroidery, knitwear, macramé, felt, hat and accessory. Although teaching methodology is rooted in the tradition of Italian tailoring, Koefia Academy's pays particular attention to innovations in projecting and technology. Cad-Cam modelling systems, digital illustration and the study of trendsetting websites have been part of the training programme for many years.
The aim of the Academy's teaching is to train young stylists with a strong project-design identity, provided by a critical sense and a high technical/practical level of preparation.
At the end of the studies, a student of KOEFIA student presents a dress during the last semester, within the ALTAROMA ALTAMODA fashion show, and participates in many other initiatives in Italy and abroad.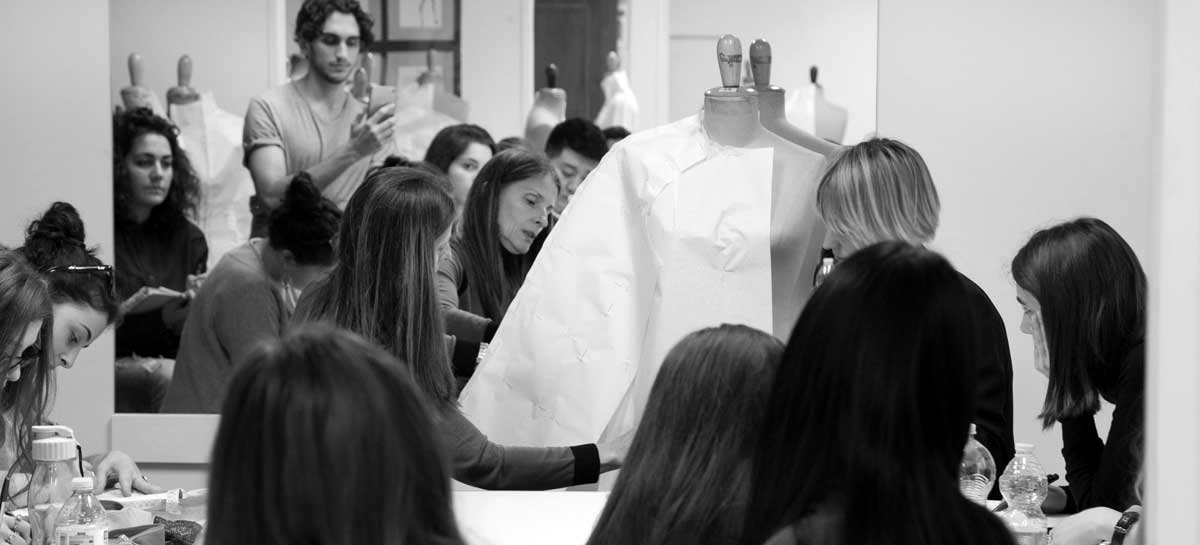 Koefia Academy born in 1951 close to the "Premiata Casa di Modelli" (Award-winning Model House), the company founded in the thirties by Countess Toni Alba Brasini. Madame Koefia and his husband Ugo Brasini patented an artisan modelling method that repeated the French "Moulage" (draping) using paper cut directly in 3D on the mannequin.
Since 1951 Koefia Academy has been preparing students with a three-year course developing fashion research, fashion design (sketch), pattern making, and high fashion tailoring craftsmanship.
The fashion designer who studies at Koefia Academy earns a complete creative and sartorial competence. He/She faces a complete educational path throughout the production process of Italian Haute Couture including embroidery, knitwear, macramé, felt, millinery, textile design, fur design. In addition, academic courses Bachelor and Master pay particular attention to complementary skills such as styling and accessory design to complete outfit and collections.
Before the Final Thesis, students have their Capstone Experience participating as talent fashion designer to Alta Roma Runway.
WHY TO STUDY FASHION IN KOEFIA INTERNATIONAL FASHION ACADEMY?
Over 60 years of excellence – Since 1951, Koefia Academy prepares young and professionals to the secrets of the Italian Haute Couture (High Fashion, Customized fashion) production process form designing to manufacture clothes and collections. The prestige of this deep-rooted school together with the skills earned allow covering prestigious positions in important fashion companies.
Accreditation – The Lazio Region (public institution) accredits Koefia Academy Koefia for Executive Courses. The Undergraduate and Postgraduate Courses are accredited by E.A.B.H.E.S. as "Bologna Compliant" Bachelor (EQF/ISCED 6) and Master (EQF/ISCED 7).
Reputation. Studying at Koefia means obtaining a Degree in one of the best Italian Fashion Schools classified in CEO, Fashionista and BoF (Business of Fashion) rankings. Studying in Koefia is synonymous with professional competence.
Reputation – Studying at Koefia means obtaining a Degree in one of the best Italian Fashion Schools classified in CEO, Fashionista and BoF (Business of Fashion) rankings. Studying in Koefia is synonymous with professional competence.
Curriculum – The educational programs is compliant with international standards. Koefia Alumni have to decide if starting to work in fashion companies or continue in other international institutions with the certainty of having his/her learning outcomes recognised.
Placement of students in the haute couture environment – Along the training, students participate in several events, competitions and fashion shows. Therefore, our students live a "full immersion" within the world of fashion working close with professionals, designers, stylist, and fashion businesspersons. Studying in Koefia students not simply are following a course but they attend the spirit of the international Haute Couture. This is important: all the extracurricular activities of Koefia Academy are included in the Tuition Fee. The same for internships.
Multiculturalism – Many students attend Koefia International Fashion Academy from other European and non-European countries. Studying in Koefia means meet the Italian Culture enriching your experience in a meaningful way.
Study in Rome – Accademia Koefia is located in the town centre of Rome, where the Italian Fashion was born. Studying fashion in Rome close to the Basilica of San Pietro is an impressive experience that fantastic experience that enriched life.
Koefia students are a family – In our school, each student is unique. Anyone has an individual talent to discover and nurture. We prepare students for a future that we can foresee, fostering their humanity, investing in their talents and empowering them to invent and create fashion by intelligence and ability, by competence and professionalism. Masters and students work together to train the future fashion executives.